Company
Riseria Costanzo operates in rice branch since 1938, milling and commercializing rice and its by-products.
It is located in the middle of "vercellese" plain, one of the most important territory in Italy for rice cultivation. Our Company offers not only all the rice's varieties growing from our geographical area, such as "Carnaroli", "S. Andrea", "Arborio" and "Baldo, but also special rice's varieties like "Venere", "Apollo", "Ermes", "Ribe Parboiled" and brown rice.
Our rice's varieties are usually packaged in 1/2/5/25 kg sacks, in 500 gr and 1 kg vacuum bags and in 1/5 kg cellophane bags.
In addition to the sales point located at the milling, we also deliver our products worldwide.
Possibly, in order to satisfy our costumers needs, we evaluate a specific personalized items packaging.
---
Wholesaling
Our Company make also wholesale commercialization of the above rice varieties usually by us commercialized. We normally pack our products in big bags, or in 25 kg bags wrapped in film on pallets. In any case we consider also other packaging types in order to satisfy our costumers' needs.
We can ship all over the italian territory or worldwide through our or your trusted couriers.
If you are interested in large quantities, please contact us directly from the site, or call the numbers listed on the right of this page, we'll be glad to specify you the current prices of the products and discuss any various types of shipping, if you want a faster contact, you can add our Skype user id, so we can talk right now.
The brand "Riso Italiano" is registered by Ente Nazionale Risi, it has the function and purpose of guaranteeing the origin, nature and quality of the rice sold by Italian operators.

www.enterisi.it
Rices
We trade all types of rice produced in the geographical area of Vercelli, such as Carnaroli, S.Andrea, Arborio and Baldo, and other special qualities such as Venere, Basmati, Apollo, Ermes, Ribe Parboiled and Brown rice. You can buy our rice in 1 – 2 or 5 kg nylon retail bags or 1 and 5 kg cellophane bags
---
Cookies
The cookies are natural products made ​​by skilled pastry with rice flour and natural ingredients, you can find them all in four variantsthe Golosetti, the Bacetti, the Tronchetti di Riso Nero and the Tronchetti di Riso Bianco.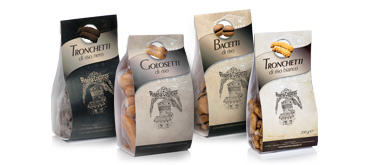 ---
Precooked Risotto
Precooked Risotto ready, easy and quick to cook, made only with natural ingredients, available in nine flavours: tomato and basil, curry, leek, radish, asparagus, porcini mushrooms, saffron, truffles and vegetables.